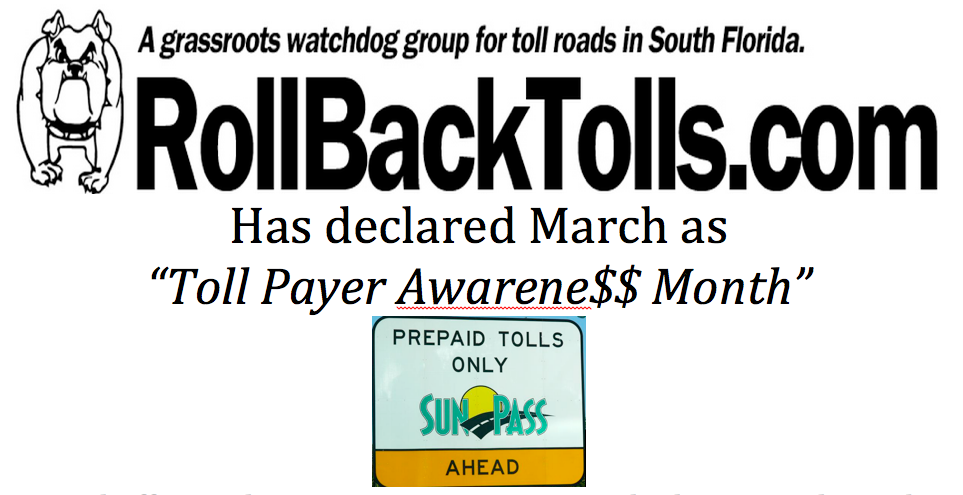 We are asking that all toll payers and Sun Pass users total up their toll bills (individual and house hold) for the last 90 days and send a copy to our elected officials.  You can log in on line at www.sunpass.com  or call 1-888-865-5352 and speak with customer service for the information.  If you no longer can afford to drive on a toll road in town, tell your elected representative how this has impacted your daily commute and quality of life.   Below is an email list.
Governor Rick Scott – rick.scott@eog.myflorida.com
Florida House Speaker, Steve Crisafulli, steve.crisafulli@myfloridahouse.gov
State Rep. Jeannette Nuñez, jeannette.nunez@myfloridahouse.gov
State Senator, Anitere Flores – flores.anitere.web@flsenate.gov
Miami-Dade Mayor, Carlos Gimenez – mayor@miamidade.gov
County Commission Chair, Jean Monestime, district2@miamidade.gov
In and effort to bring more awareness and education about the money you pay, the tolling agencies that collect tolls and how these agencies use your toll dollars, we bring you this new initiative. Things you will learn:
• How to log into your Sun Pass account and total up how much you are actually paying.
• Download the Sun Pass app to your smart phone.
• Learn if any portion of your tolls may be deducted from your taxes.
• How to petition Sun Pass to update their system to send you e-mail and or text message notifications for toll usage/cost summary.
It is time to wake up our elected officials to the reality that MDX and their non-elected board is out of touch with the economic hardships of daily commuters that need the roads simply to get to work.  And to make them aware of the secondary impact "toll avoidance" is having on our county roads and communities from drivers that can no longer afford to take MDX roads.
Additionally, please sign our on-line petition demanding that MDX "Roll Back Toll" rates for drivers just as they did for the truckers.  Don't believe MDX when they say it can't be done, because they already did it!  Watch the video.
We have to keep the pressure on high and make this one of the top issues in next November's elections for local and state positions.
If you know someone who would be interested in receiving this information please ask them to sign up on our e-mail list on http://rollbacktolls.com/join-our-email-list/